2/8/2010

Update, update, update! YAY!

This past week was a light week for crafting... I had to split my time with cleaning (the house was a disaster), so there's not too much to share.

First up are 3 pairs of PJ pants (from quilting cotton) for Q. Had to make him something with all these dresses and such being made for his baby sister, he was starting to get jealous. He picked up the fabrics for them, all his favorite things.



Just one dress this week. Made using Simplicity pattern #2668, size S (6 mos). This dress was quite a pain, it has box pleats, a zipper and a round collar (that was the worst part, which is why it's a little fidgety). Obviously I forgot to switch my thread to a better color and didn't realize it until halfway through, so I just didn't bother (the collar was making me mad and I just wanted to finish it). But it turned out cute and I love the fabric, so it's OK!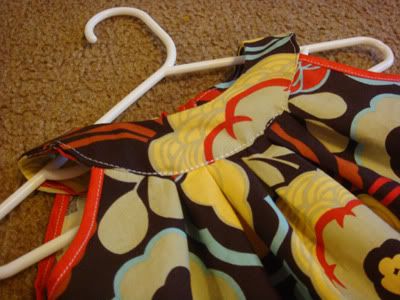 More playfood for Q, some crocheted noodles, he's been asking for some spaghetti for a while, so I whipped these up, they were super quick!



Next up, 3 pairs of some super simple/plain reusable/washable nursing pads, using some old (from when Q was a baby) Gerber birdseye cloth diapers, they are 4 layers thick and are a nice lighter weight pad. Just serged around the edges, super quick project! I am planning to make another 3 pairs of heavier ones using flannel and some Gerber prefold diapers.



And last up a set of bibs, they are quilting cotton with a double layer of birdseye cloth diaper inside. I will be resizing the patterns for future bibs, these turned out a bit on the small side (especially the neck hole of the round one, there's no way a baby's neck is fitting in there).