2/1/2010

I meant to get this posted yesterday, as my final January post, but oh well...
January turned out to be very productive. I made a total of 53 items (if you count individual things that are the same), that's kind of awesome, so I am hoping to keep the madness going through February as well.

First up, some felt playfood I whipped up for Q, he has been bugging me about making him a salad so when I ran across the lettuce leaf shape I printed it out and went to work cutting and sewing this pile of lettuce for him to make salads with. Was a quick project, even though I hate making felt playfood (I prefer to crochet it).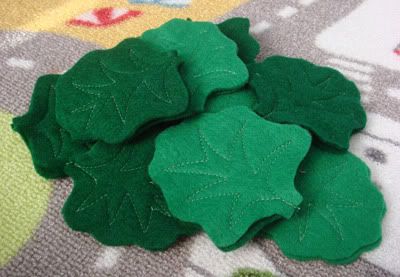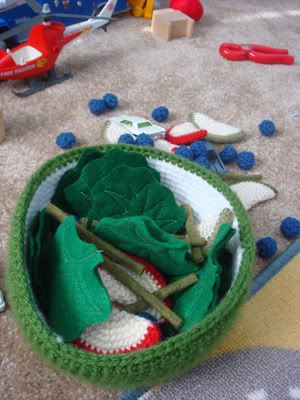 Obviously it's already being put to good use!

Next up I found some prequilted baby fabrics in my stash, I have no idea where they came from or how long I had have them but I decided I was going to use them, so I cut out 2 identical changing pads and grabbed some quilt binding from my stash and in no time I had 2 quilted changing pads. I love instant gratification projects!


Both are the same, one side is the animals/dots print and the other is the pink gingham, just the color of the binding is different.

This next item is probably my favorite thing I made last week. It's a reversible pouch sling, made using knit fabrics. I just love how it turned out! I used the Baby Sling Tutorial on the Handmade-Adelaide-Baby website, it was super easy and pretty quick (once I got it cut out, knits can sometimes be a little tricky to cut).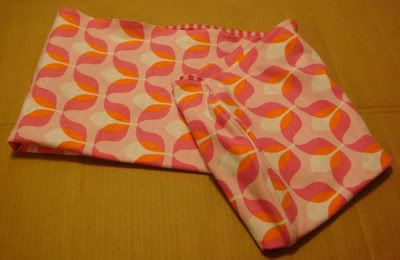 Q's bear "Mommy" is helping me model how it works. I am really looking forward to using it!

And now for what you all have been waiting for... this week's installment of adorable tiny baby dresses!

First dress was made using the "Itty Bitty Baby Dress" pattern from the Made by Rae blog. It's SOOOO tiny, think newborn/preemie size, I need to get a shot of it with something for a size comparison (it's hanging on an infant/toddler hanger, was a SNUG fit). I didn't make the dress exactly as the pattern does, for the bodice I actually sewed the outer parts together along the side as well as the lining pieces and then I sewed them along the straps RST and turned and topstitched them, then sewed the whole bodice to the skirt, this is how the other patterns I have been using did it, so it made more sense to me... though I am pretty sure the end result is the same. This is the only new dress pattern I tried this week (don't worry, the next batch of dresses are from 2 new patterns as well).


How cute is this fabric?! The print is SO tiny, so I thought it was perfect for such an itty bitty dress!

Next up is from the same pattern as the dress in the fish fabric from last week's post (McCall's 3598, this one is size 2 though). I have loved this fabric since it came out years ago, so I was excited to finally get my hands on some, I think it makes a very cute toddler dress (even cuter with the matching undies!).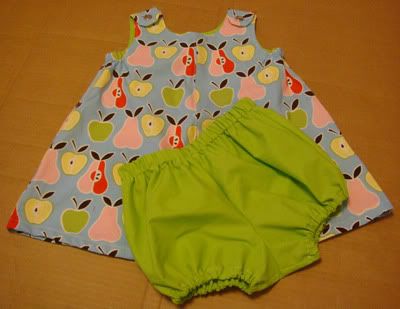 And last but certainly not least... my favorite dress from the week... I know, how could they possibly get cuter, I will tell you... CUPCAKES! Made using the "Betsy" pillowcase dress pattern (same as the Owl dress last week, pattern by OwlyBaby) in 9-12 months size. This is another fabric I have been drooling over for ages, I can't believe Joann's had it, but I am quite pleased they did. I also got it in blue, haha.


(Lighting is weird in my craft space, so 2 pictures to get the full effect, anything with red tends to get weird with my camera).

And now to get busy on Feb.'s items... I have a bunch of stuff cut out waiting for me to sew it this week, so check back next weekend for more new stuff! YAY!