1/24/2010
Had a very productive week! Spent most of my time sewing baby clothes, mostly dresses, nothing cuter than tiny clothes!
But I will start off with the other projects I finished up.
First up is a scarf I started last Spring (think April 2009)... it's a crocheted scarf using a mesh stitch that I found in a stitch dictionary... using a 100% cotton (mercerized) yarn.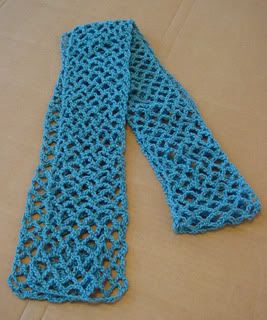 Next is a hand embroidered tote, with a cute little owl (from a vintage pattern) on it. Q wants me to make him a shirt with this owl on it now, so keep an eye out for that in the future.
And now for the baby clothes!! YAY!
Group shot of all of the stuff for Baby Girl...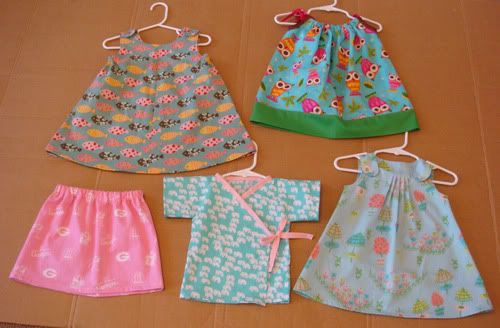 I actually made 2 of these cute kimono wrap tops (size 0-6 mos) (using the free pattern from the
Habitual blog
A pink UGA skirt (6 mos sized) with an elastic waist.
The first dress has the cutest little pintucks on the top, I switch the buttons for snaps because I thought snaps would be more comfortable (and easier for me, haha). Made using Simplicity pattern #3808 in 0-3 mos (XS) size (I actually used the M size length for it, since technically it's supposed to be a top and I wanted it to be a dress)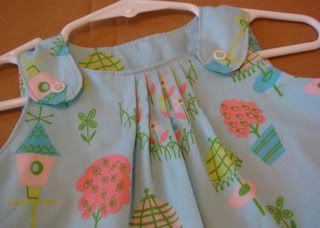 The next one is a "Betsy" dress
by OwlyBaby on etsy
. It's a pillowcase style dress, so cute! I love this owl fabric (thanks, Aimee!) and this one is a 6 mos size, but will grow with her, which is awesome).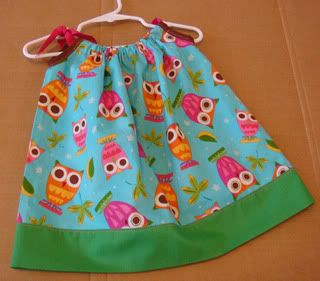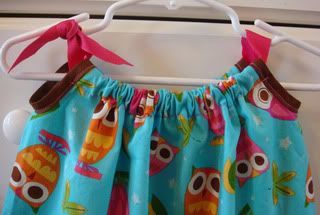 And last up is this cute little jumper, made using McCall's pattern #3598 in the 12 mos (1) size. I love the little elastic detailing at the underarms. Also replaced the buttons with snaps (I wish I had covered the snaps, but oh well) and all seams on this one are top-stitched, I think it adds a little something.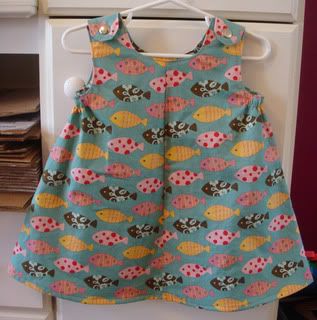 Keep an eye out for more dresses in the future... my goal is to get 2 dresses in each size (from 0-3 mos to 12 mos... so 0-3mos, 6mos, 9mos, and 12mos) made before she's born. YAY!