3/2/2010

A new month is upon us! Only 37 more days until Baby joins us (I don't remember if I mentioned it or not, but we actually have a date now, repeat c-section scheduled for April 8th)... so I REALLY need to stay on the ball this month if I want to get everything done before she gets here!

So let's get started...

First up is a reconstructed project. I took an old waterproof pad we had used with Q (about the size of a changing pad), that was starting to pill and peel off it's backing (and was yellow gingham and I don't like yellow) and I cut it in half and then stitch some pink and green striped flannel to the top and then serged the edges... now I have some cute new waterproof pads that match the nursery (I love using them on the changing table to keep from having to change the changing pad cover so often).
Before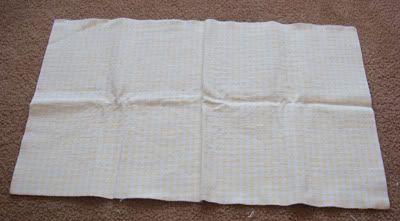 and After!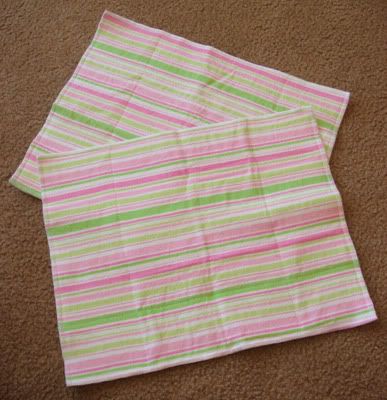 I wanted to add a little something to the other gifts I had made the week before (the changing pads) so I made a few little appliqued onesies...
I made 3 Tie onesies, so cute for little boys!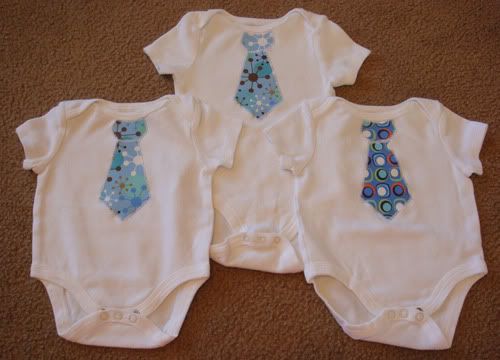 And so Baby didn't feel left out, I made her an initial onesie (yes, that is a "Z")!



While I was decorating onesies I figured I would go ahead and finish cutting out a few stencils I had started for some shirts, so I also managed to get 3 shirts stenciled...
A motorcycle one (for my cousin's son, he's not quite a year older than Q)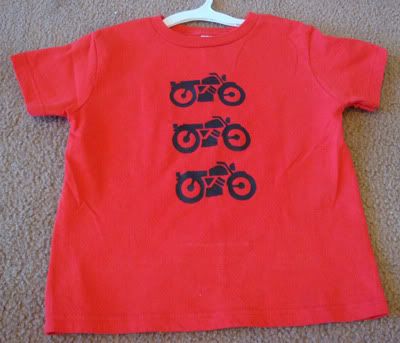 An octopus one for Q (he picked out the image, the shirt color and the paint color)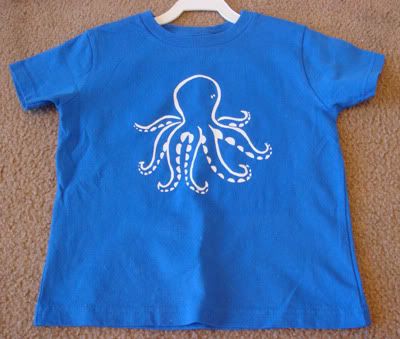 And the last one I made because I had the shirt in my stash and I thought the image was perfect for stenciling... it has since been claimed by Husband.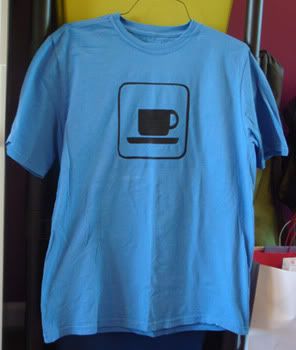 And to finish up this week's post... the last of the baby dresses... at least for now! I have more fabrics that I would like to use for dresses, but I think at this point she's got enough dresses to get her started.
I used McCall's pattern #2213 for both dresses. Super easy pattern to follow and the dresses were really quick to both cut out and sew.

The first one is View A (size Small, 13-15lbs), in a super cute bird fabric (thanks, Aimee!) that's reversible to a solid red (with a bird applique).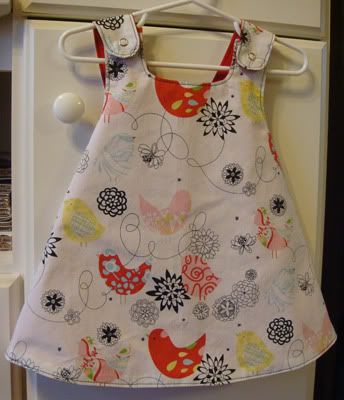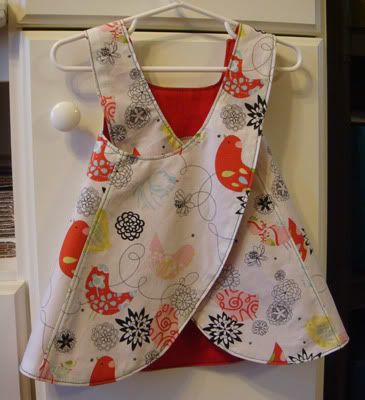 And the second is View D (in size Large, 19-21lbs), in another cute bird fabric with a coordinating aqua gingham. It could also be reversible but it would just be plain gingham on the other side, not very exciting. As you may be able to see from the photos, the dress when untied and unsnapped is actually 2 pieces...