Crafting since last update (Feb.) LOTS!

I've been very busy since my last update in February. All the pictures are small because there are so many of them, but if you click on any of them you can see the bigger version, so do it!!

A few onesies I stenciled for the first baby/kid craft swap I participated in.



The rest of these (the 2 shirts, lamb, and pillow) were for the second swap I was in. The kitty shirt is stenciled, the cow collar shirt was just a plain white shirt that i made a collar and sewed on.


The lamb I made using this pattern (http://www.patternbee.com/FREELAMBKIN.html) my first stuffed toy ever.


The pillow is made of fleece, the stripes are actully strips sewn together, the tooth is sewn onto the little pocket to put your tooth in for the tooth fairy.



These 2 items were for a favorite children's book craft swap I did. The book my partner sent was "The Missing Piece Meets the Big O" by Shel Silverstein. The shirt is stenciled with a quote from the book. And the bag is made from naugahyde with the missing piece and the big o on the front (it came out really well, I was so proud. (Make sure you click on both to see them in all their glory)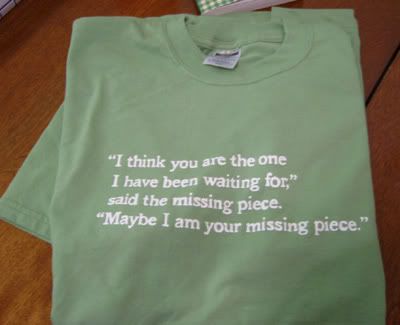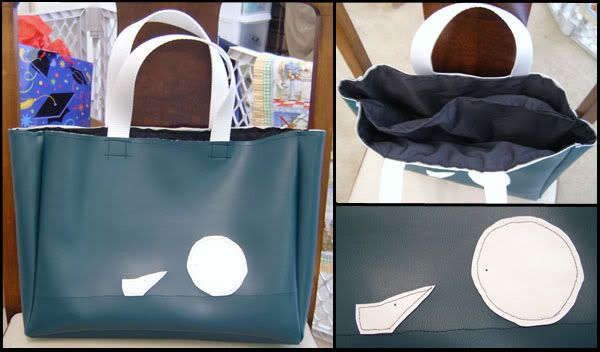 This is a naugahyde cuff I made for a cuff swap. It's a simple design, laces up with ribbon. I really like how it turned out.



This is the naugahyde padded laptop bag I made for Forrest for graduation. It came out really well I think, and I am getting much better at working with the naugahyde (read, better at not breaking needles). It's lined with fleece and padded with half inch high density foam.



A purple messenger style bag made out of naugahyde, this is my first attempt at a bag with it. It was a learning experience. But it actually turned out nicely. If anyone wants it, let me know, purple's not my color.



Here are 2 coin purses I made with the naugahyde (clearly I have a TON of naugahyde to work with) The first is a peachy marbly print star (looks like a starfish to me) and the skull is bigger, more like a clutch, the mouth is the zipper. (If anyone wants the skull, let me know!)



This is a quilted coffee cozy that I made for my father-in-law, he loves the Chiefs and coffee. It fits on to a Starbucks coffee cop (closes with velcro). I'm going to start making these to sell, if anyone is interested, or if any loved ones would like one for Christmas, start making your list for me now.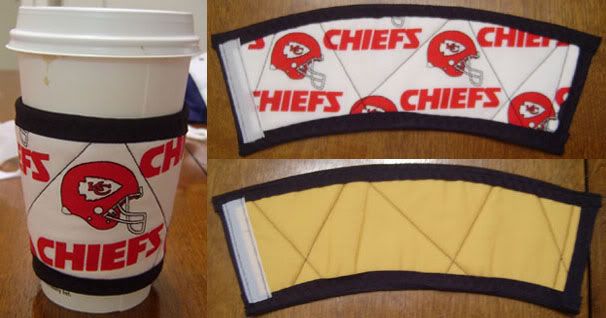 I made this purse for a girl my mom used to take care of, for her birthday. I used this tutorial, http://www.craftster.org/forum/index.php?topic=69434.0, thanks thingwraith. It turned out really cute. I'm working on modifying the pattern to a diaper bag for myself, I just have to find the perfect fabric now.



A purse and matching wallet/organizer (this is the second organizer I've made, using SewPixie's awesome tutorial, http://www.craftster.org/forum/index.php?topic=16097.0).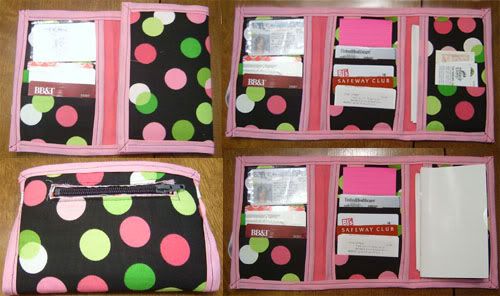 A weekend bag I made for someone for graduation (Though I don't think she's picked it up yet, so sorry if the surprise is ruined). It's HUGE. You can stuff so much into this bag. I used this tutorial to make it http://www.craftster.org/forum/index.php?topic=42927.0, thanks logsio!



A zipper pouch clutch I made for my mom to take with her to the grocery store, it matches the cloth grocery bags that I made for her (which I forgot to take pictures of).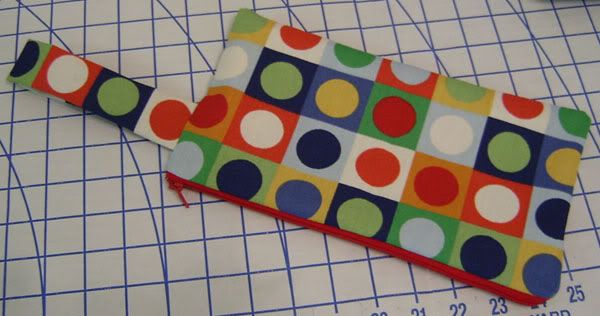 Some coveralls I made for Quentin, I made the pattern by looking at another pair of coveralls he has, lots of tweeking to get it just right. I used an old scrub top of mine, it was just enough fabric.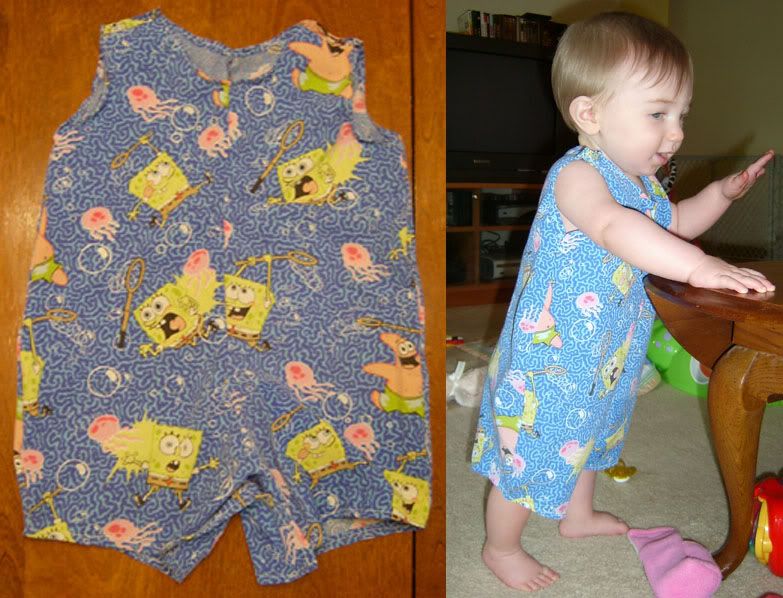 An adorable little baby tee out of the same monster fabric I used to make his first pair of coveralls (back in the last post, maybe). I took apart one of his baby tees that he'd grown out of to make the pattern.



A dress I made for myself to wear to Forrest's graduation. I used Simplicity pattern 4119 (view A). The most complicated pattern I have worked with so far, and it came out a little big, but I took it in and it's super cute.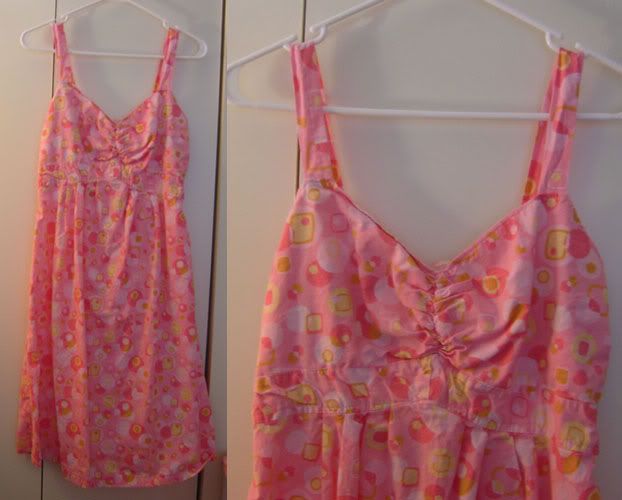 I saw a corduroy skirt in Delias (http://store.delias.com/item.do?categoryID=450&itemID=46204&sizeFilter=&colorFilter=&brandFilter=) that I thought was really cute, and then I remembered I had some polka dot corduroy that I bought for really cheap at Joann's, so I just made myself a skirt pretty much just like it. (Mine's longer and doesn't have buttons, and zips on the side) No pattern, I just sort of winged it.


This is the first skirt I made. I used Simplicity pattern 4285 (view C). My first time using a pattern, and it was super easy.