my new diaper bag and a baby hat
I had been carrying around the little black diaper bag the hospital gave us, since we brought Quentin home. It was just too small now and I wanted something with a little more color. So while at Target I found 2 laundry tote bags in the dollar bins and decided to make them into 1 reversible tote. So I sewed the one tote inside out into the other tote and then added some little heart shaped buttons in coordinating colors. I also needed some little bags to go inside to hold stuff (since there would only be one pocket inside), so I used this tutorial () and made a matching blue pouch to keep baby stuff in and a pink one to keep stuff for me in. The blue one I made from baby washclothes and a waffle weave clothe diaper for the linig, and the pink one from a terry jumpsuit thing that I had that didn't fit me anymore and a plain white tshirt for lining. I'm very pleased.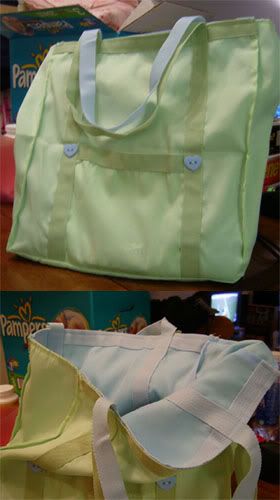 I also made a little fleece hat for Quentin, I used a hat that I had from ages ago that was coming apart at the seams and this pattern (http://www.shelby.fi/kaava/403/403.php). I accidently sewed the bottom band onto the outside inside of inside so that seam is showing, but it still looks cute on him.